#115795 Print, Cut, and Fold Math, National Edition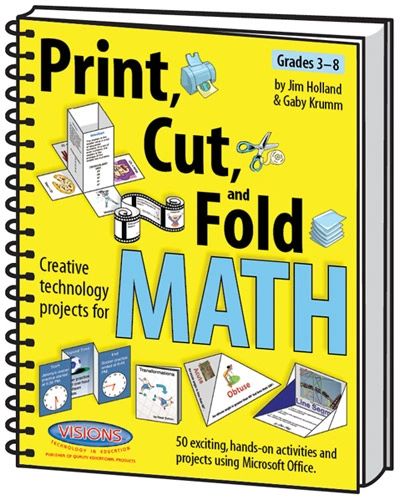 Print, Cut, and Fold Creative Technology Projects for Math (National Edition)
Aligned with ISTE Standards!

45 exciting, hands-on activities and projects using Microsoft Office.

Let your students print, cut, and fold their way through your math curriculum!

Let Print, Cut, and Fold engage and motivate your students with meaningful, hands-on math activities that reach into many branches of mathematics, from number operations to geometry. These 45 technology-rich activities use Microsoft Office to create unique graphic organizers, study aides, and desktop publications. The step-
by-step instruction sheets and lesson plans will allow you to integrate technology
into the math curriculum. This infusion of technology will encourage and inspire,
transforming boring paper and pencil problem-solving into brilliant activities where students create, assimilate, and evaluate using 21st century skills. Grades 3-8

Features:
Step-by-step student activity sheets with screen shots
Student activity sheets are available for both Microsoft 2003 and 2007
Graphics manipulation quick reference booklet
Student planning sheets for each lesson allow students to map out the activity
All templates included on CD-ROM
Teacher tips and pitfalls to avoid for each lesson are provided
Product samples for each activity type are included
Extension and accommodation ideas accompany each lesson
Benefits:
True technology integration: students learn useful technology skills while engaged in meaningful math activities
Template-driven for ease of use
Single-sided printing only: no complicated double-feeds through printers
No special equipment needed!
Highly motivating
Extensions accommodate Gifted/Talented student needs
Create:
Cascading Flip Book
Clue Square
Compare/Contrast Square
Diorama
Fan Deck
Filmstrip
Flap Book
Mini-Book
Pocket Portfolio
Post Card
Pyramid
Stretch Book
Study Cards
Tabbed Book
Tower
Venn Diagram
Topics:
Number Meaning and Identity
Number Value
Addition and Subtraction Applications
Multiplication, Division, and Averaging
Computation Fluency
Percentages & Fractions
Measurement Systems
Elapsed Time
Algebra
Data Analysis
Geometric Vocabulary
Line Segments & Angles
2-D and 3-D Figures
Transformations